Electrical Contractor: Self-Installed

Project Overview:

ABOUT LIGHTSPEED VT:
LightSpeed VT offers personalized, interactive, virtual training strategies and works with high-profile customers; the company wanted their work space to have a professional and updated look.
WHAT WE DID:
We chose to use our 4ft ATG architectural linear light for this project. At 42w (4800 lumens) and 3500k, we were able to create a well lit, yet comfortable atmosphere.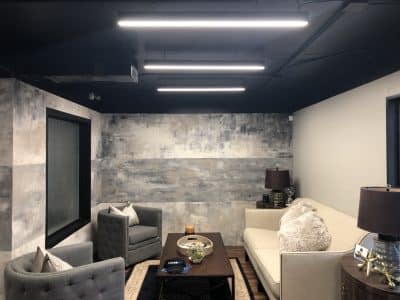 WHY WE CHOSE THIS SOLUTION:
LightSpeed VT initiated a new, creative business model and required their space to reflect their talent. They decided to remove the grid-ceiling throughout the office space, and maintain an open-ceiling concept in the front of their building.
When developing this solution, we were able to utilize our photometric software to customize a layout that would be perfect for this remodel. Our linear lights can easily be suspend-mounted from the open ceiling, and by using a 4,800 lumen fixture, we were able to create suitable light-output. Our photometrics can help us create a phenomenal lighting package for any kind of facility you might have.
Linear Architectural lights are some of the most popular fixtures currently being implemented into commercial spaces. Our fixtures our highly customizable and can help modernize your facility. Call our Wichita or Kansas City locations and let us help modernize your business.