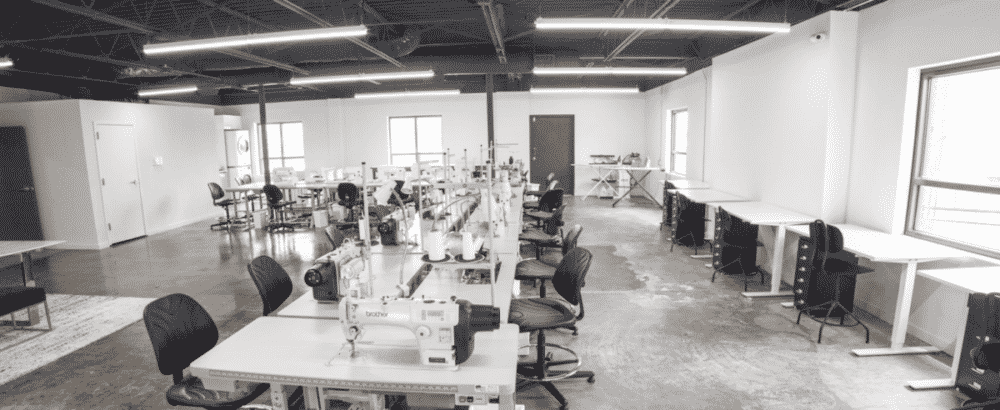 " LED Direct was referred to us by Eleve Dancewear. The owner, Lisa Choules, was impressed by LED Direct's professionalism and experience when she built out her manufacturing factory. Our atelier space is perfectly lit, thanks to the time Max Bartlett took in coming to our space and planning the appropriate type and placement of our lights. We were proud to support this Kansas City-based company and highly recommend them to others."
Jennifer Lapka, Owner, Rightfully Sewn

THE RESULTS:
We believe our client, the owner of Rightfully Sewn, says it best:
"Our space is perfectly lit."
Jennifer Lapka, Owner, Rightfully Sewn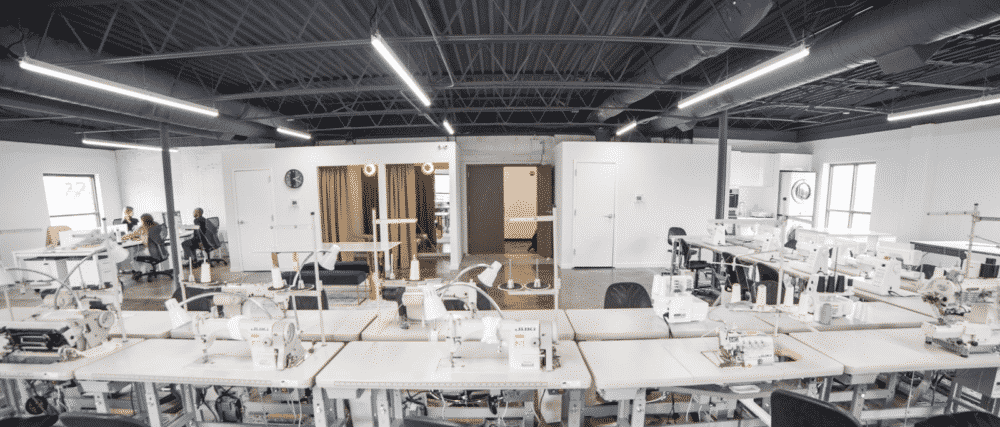 ABOUT RIGHTFULLY SEWN:
Rightfully Sewn provides seamstress training for women so they can thrive in a specialized workforce that will reestablish Kansas City as an epicenter of garment manufacturing, while at the same time, propel Kansas City fashion designers to market so they can supply the burgeoning demand for high-quality, American-produced garments.
Rightfully Sewn's Guiding Principals are: equity, diversity, accessibility, acclivity, positivity, efficacy. They also strive to create jobs and opportunity through the business of fashion.
Their Key Strategies for the business are:
A. Empower women by teaching them a trade and assisting them with job placement, thereby elevating them out of a systemic situation
B. Cultivate Kansas City fashion designers through competitive, two-year-long residencies and access to fabric trade shows, professional development workshops, speaker series, documentary screenings, and other related events
C. Offer small batch garment production services, including pattern making, sample sewing, sourcing assistance, production management, and more
D. Foster a well-connected, efficient fashion design and manufacturing community by hosting an online Industry Directory and Jobs Board
THE DETAILS:
SITUATION – Space was being remodeled and new lighting was necessary:
We surveyed the empty space with the electrical contractor to assess the best lighting layout for optimal light levels. We needed to provide light levels good enough to thread a needle… literally. But, of course, we didn't want to blind the workers.
WHAT WE DID
We chose our 4ft linear lights at 40w each. They are able to run continuously up to 100ft on one source of power. This allowed us to create longer light fixture (8ft) while keeping the light fixture and labor costs low.
WHY WE CHOSE THIS SOLUTION:
Our new construction lighting layouts, or photometrics, can make it easy for complete remodels and new buildings to achieve the light levels they need. The work performed in each facility is an important factor in choosing the lights we use. We want to make sure each task is able to be completed while still achieving the energy savings from our LEDs.