Facility: Signature Flight Support – Downtown Kansas City
Electrical Contractor: Excel Lighting and Sign

PROJECT OVERVIEW:
By installing new exterior lighting and replacing some of the old interior lighting at Signature Flight Support, LED Direct increased light output while reducing energy use and costs.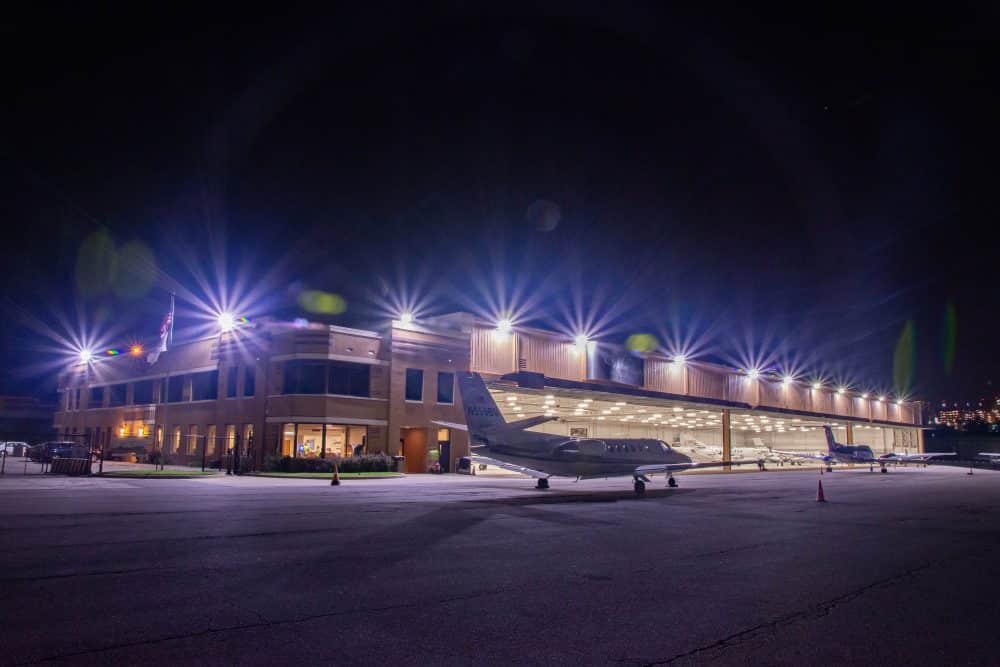 THE PROBLEM
Signature Flight Support needed to increase the amount of light outside their facility and replace some of their interior lights. The property was not energy efficient, and the fixtures on their property needed updating.
THE SOLUTION
First, we increased the lighting in front of the main hangar. We installed 300w LED flood lights where there previously had been none, which brightened up the tarmac.
Next, we replaced all the pole lights in the parking lot, as well as each exterior wall pack on every building owned by Signature Flight Support. Because the majority of the downtown airport is comprised by their buildings, most of the space now has updated, energy-efficient lighting.
Last, we updated the high bay lights in one of the hangars.
THE DETAILS:
Why we chose this solution:
We installed lights at the front of the hangar where they were most needed. We also replaced the pole lights and the exterior wall packs so that the entire building would be well lit on the outside. This not only increased the light output, but the safety of the space as well.
By updating the space's lighting, we were able to increase energy savings and maintain the warranty. Our updates to the hangar's lighting also helped retain a current lessee. The rest of the light replacements were chosen for their illumination impact.
Because of the current rebate offered by KCP&L, the costs of the products were less than they would have been, which allowed for more lights to be installed.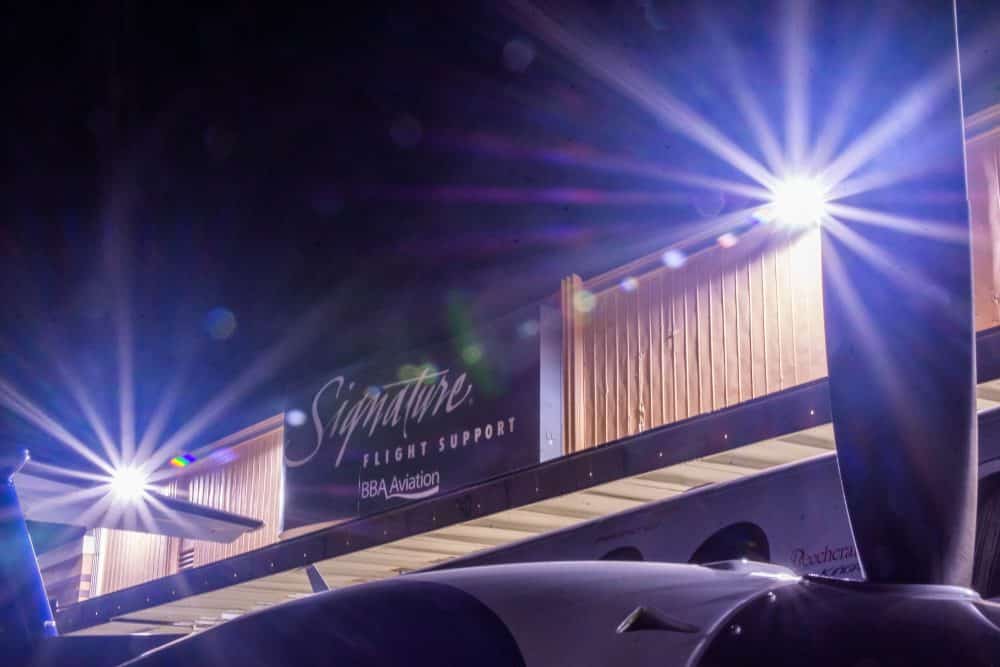 THE RESULTS:
The result of the increased lighting was a decrease of wattage by 68% and a significant increase in light output. We also added a 5-year warranty to all our lights, which will save on future maintenance costs.
It is remarkable how changing these lights resulted in so much energy saved. A total of 59,585 watts were saved while only currently using 27,890 watts. That turns into an annual savings of about 65,000‬ KwH. That's the equivalent of what 6 households use for electricity! To achieve this outcome, we did not have to remove light fixtures. In fact, we added more, all while vastly increasing light output.
As a result, Signature Flight Support is better illuminated both internally and externally. They are conserving energy and saving money.
Contact us today to discuss how we can help you take advantage of the KCP&L rebate and light up your world.
"Dustan and his team exceeded expectations. Our employees and customers absolutely love the new lighting upgrade on the campus. It provides a real sense of safety and security."
Frankie Taylor, Signature Flight Support